TEFL Teacher Training Courses in Thailand
Fancy living in an exotic country & working your way around the world?
We certify TEFL teachers monthly in Chiang Mai & place them in great jobs.
Apply to join our TEFL Training & Placement (TAP) program and we'll subsidise the full cost of your training, place you in a good job and manage your first two terms in the world of ESL. It's an ideal, hassle-free, entry into the world of TEFL, open to a few dozen lucky people each year.
Monthly courses, with fun adventure and cultural excursions, are also offered if you're simply looking for an internationally accredited 120-hour TEFL Certificate. Our team has trained more than 1,000 teachers since 2008.
Teach your way around the world
TEFL is a popular way to see the world; demand for teachers is high and Thailand is an ideal place to start. Experience a fascinating new environment, travel during the school holidays and help nurture kids in some amazing places. The adventure and enchantment begins here.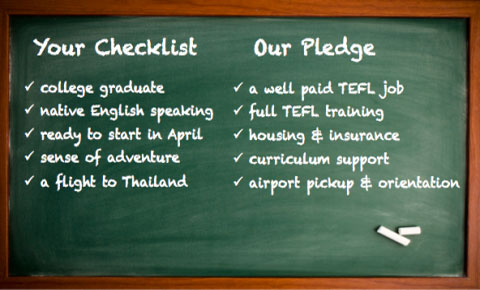 What's it like to teach in Thailand?
Are you ready to make the move?
If you have any questions about our TAP Program, please feel free to contact us and we will get back to you shortly.
Contact Us Today